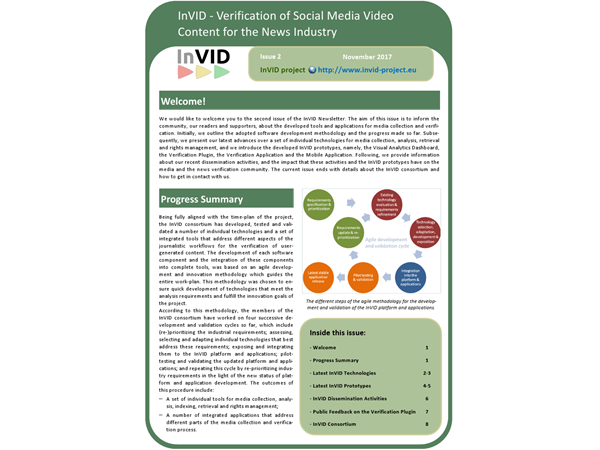 We are pleased to announce the release of the second issue of the InVID newsletter! The aim of this issue is to inform the community, our readers and supporters, about the developed tools and applications for media collection and verification.
Within the pages of this issue, the reader can find information about:
the adopted software development methodology and the progress made so far in the project;
our latest advances over a set of individual technologies for media collection, analysis, retrieval and rights management;
the developed InVID prototypes, namely, the Visual Analytics Dashboard, the Verification Plugin, the Verification Application and the Mobile Application;
our recent dissemination activities, and the impact that these activities and the InVID prototypes have on the media and the news verification community.
The issue ends with details about the InVID consortium and how to get in contact with us.
Please find the newsletter at: http://www.invid-project.eu/newsletters
apostolid November 23, 2017 Newsinvid activities, invid dashboard, invid mobile application, InVID Newsletter, invid prototypes, invid reporting, invid technologies, InVID Verification Application, invid verification plugin Read more >