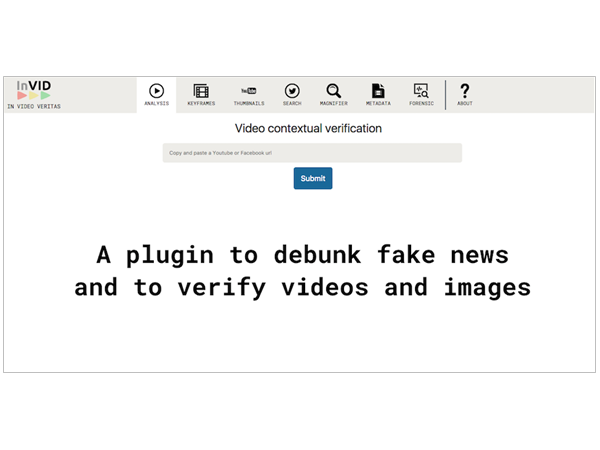 The European Horizon 2020 project InVID (In Video Veritas) is releasing this Wednesday (12/7) in open beta the Firefox version of its plugin to help journalists save time in their verification processes and debunk more efficiently fake video news. At the same time, the plugin code is published and shared on GitHub (https://github.com/invideu/invid-verification-plugin) in open source with a MIT license. (The plugin code is the same on Chrome and Firefox).
The InVID plugin which was released on Chrome browser on the 3rd of July at a First Draft Meeting at the Council of Europe in Strasbourg, France can now be downloaded at the bottom of this page by Firefox users, on each available operating system.
The InVID plugin allows to get contextual information on YouTube and Facebook videos, to fragment videos from several platforms into keyframes, to query reverse image search engines like Google, Yandex and Baidu, to magnify pictures to read details, to read metadata and to apply forensic filters to detect alterations of an image, as well as searching on Twitter by time range up to the minute.
The plugin is available for Windows, Mac OS X and Linux users. To install the plugin, after downloading and unpacking the zip file, simply drag & drop the created XPI file in a new tab of your Firefox browser.
A video tutorial / demo is available on the InVID Youtube channel: https://youtu.be/nmgbFODPiBY
As usual, we welcome your feedback at: invid-verification-plugin@iti.gr
apostolid July 12, 2017 Newsfake video debunker tool, firefox plugin, invid verification plugin, video verification Read more >