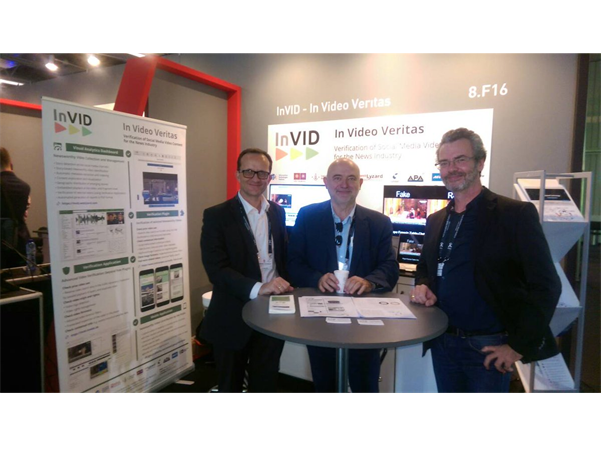 The InVID project was invited to participate in the Future Zone of the International Broadcast Convention (IBC), that took place in Amsterdam on 14-18 of September, to demonstrate the developed integrated tools for newsworthy content discovery and verification.
A few hundred visitors from TV channels, media organizations, software houses and research organizations passed through the InVID booth, that was nicely located between the BBC R&D booth and our colleagues from the COGNITUS project, to check the functionalities of the InVID technologies. More specifically, these visitors were introduced to:
Our participation in IBC allowed us to get in touch with potential customers of the InVID technologies, such as mainstream television groups, providers of social media feeds for broadcasters and also international television networks. Indicative dissemination and promotion activities of our presence in IBC are the following.
Rolf Fricke (Condat) was interviewed about InVID and the InVID technologies, on a live Radio show by Myrte van der Putten.
High attention and many visitors at #IBC2018 listening to live Radio interview with Myrte van der Putten about @InVID_EU and Social Media Verification, Stand 8.F16 Future Zone, Amsterdam pic.twitter.com/iMY3snvfUV

— Rolf Fricke (@RolfFricke) September 15, 2018
Marco Lawrenz (Condat) presented the verification functionalities of the InVID Plugin, to ZDF producers.
.@InVID_EU booth crowdy until the last minute. Here a visit from ZDF producers interested in #fakenews debunking @IBCShow #IBC2018 pic.twitter.com/gUtNw8Sn8U

— Denis Teyssou (@dteyssou) September 18, 2018
A collaborative demonstration of the established communication between the CONGITUS platform (used for UGV content enhancement) and the InVID Verification Plugin (used for UGV content verification), was made with the help of our partners from the CONGITUS project.
We have a demo of our neighbours @InVID_EU plugin for verification of social media content within @H2020Cognitus so stop by Future Zone 8F.14 & 16 tomorrow to see it in action in our user generated content for #broadcasters platform! #IBC2018 pic.twitter.com/ayLWAwAydf

— cognitus-h2020 (@H2020Cognitus) September 17, 2018
A big THANK YOU for visiting the InVID booth and showing your strong interest to the InVID solutions for newsworthy content discovery and verification!
apostolid October 17, 2018 Events, NewsFuture Zone IBC, IBC 2018, invid dashboard, invid mobile application, invid project, InVID Verification Application, invid verification plugin Read more >