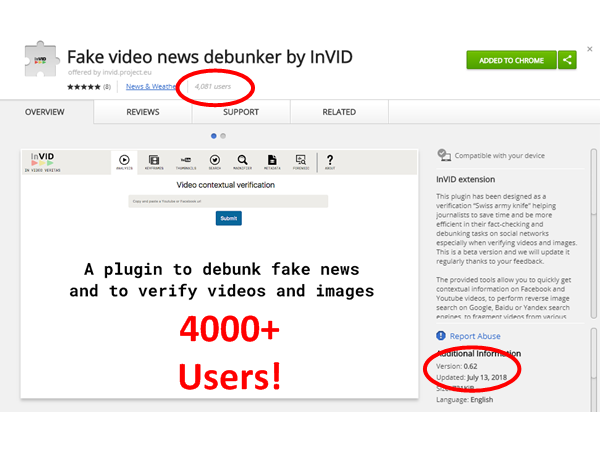 We are thrilled to inform you that the InVID Verification Plugin has surpassed 4000 installations! A big thank you to all of you who are using this tool for media verification, and motivate us to make it even better!
In addition, we are glad to announce the release of a new version of this tool, which:
contains a GDPR-compatible cookie consent,

enables the users to directly apply the forensics filters on any extracted/collected keyframe or submitted image,

allows the application of reverse image search using the KarmaDecay and the Bing search engines via its contextual menu, and

has a number of bugs fixed.
To get the new Chrome- and Firefox-compatible versions of the plugin, please visit http://invid-project.eu/verify
apostolid July 13, 2018 News4000 installations, fake video debunker tool, invid verification plugin, media verification, new functionalities, New release 0 Read more >