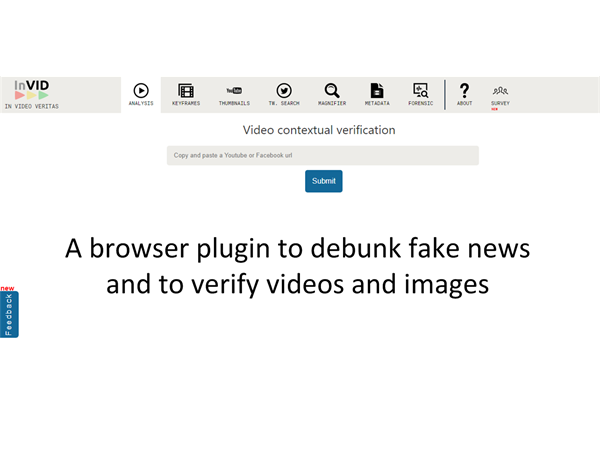 Check the new version of the InVID plugin (released on January 31st 2018) that contains a new launch menu and extended functionalities for content collection and verification. After fixing a number of bugs, and thanks to the valuable and constructive feedback from the users of the tool, we developed the next version of the InVID verification plugin, which:
Contains a new launch popup menu with three options (see image on the right):

"Open InVID" opens the user interface of the plugin in a new tab of the browser
"Video Urls" allows journalists to identify the video URL in the HTML code of the webpage, open it a new tab that enables the direct download of the video or use it for analysing the video through the Keyframe component of the tool (supports Instagram, Vimeo and Liveleak platforms)
"Images Urls" gathers all the existing images in the webpage and permits a more organised inspection of these images through the offered functionalities in the contextual menu of the InVID plugin (supports Instagram, Vimeo and Liveleak platforms)
An example of how the URL of an Instagram video can be retrieved using the newly added functionality is illustrated in the following image.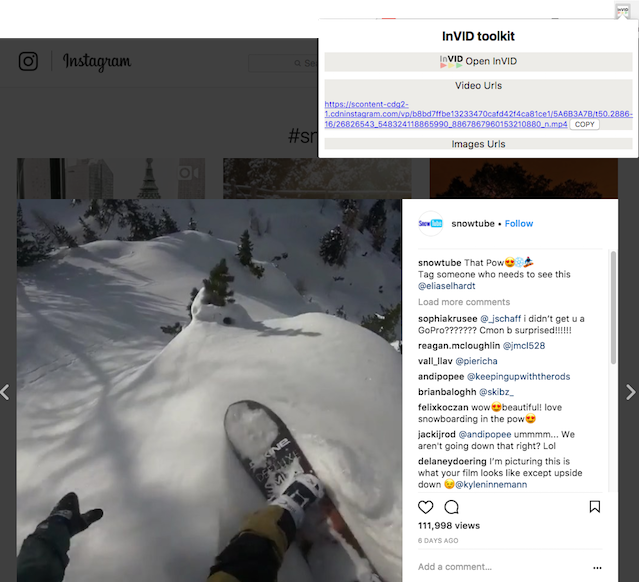 Supports YouTube shorteners in the entire set of integrated video analysis functionalities
Offers an enhanced contextual menu
Includes the latest version of the Metadata component, that offers a preview of the picture and supports Dropbox and Google drive URLs
Integrates the latest version of the Analysis component, which now supports Twitter content and provides a link to timeanddate.com for direct convertion to local time
Offers Tineye as an alternative reverse search engine, in all tabs where this searching process is applicable
Get the Chrome- and Firefox-compatible versions of this release, from http://www.invid-project.eu/verify and send us your feedback!
apostolid February 1, 2018 Newsimage verification, invid verification plugin, new content collection functionality, popup launch menu, video verification Read more >