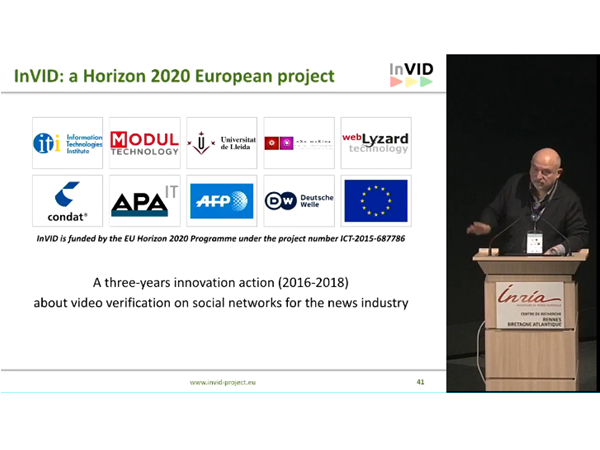 The InVID Innovation Manager, Mr. Denis Teyssou from AFP, participated at the IEEE Workshop on Information Forensics and Security (WIFS) 2017 that took place in Rennes (France) at INRIA Bretagne Atlantique, and gave a talk on the state of the art in journalism about fake image and video detection.
During his presentation, Mr. Teyssou reported on a variety of currently existing guidelines, tools and approaches for forensics analysis, and discussed about investigative journalism and post-mortem analysis of events. Following, he showcased the application of some of these tools in real-life scenarios, to better illustrate their effectiveness in evaluating the originality and trustworthiness of a media item. Finally, Mr. Teyssou presented part of the work undertaken so far in the InVID project, focusing on the developed InVID Verification Plugin (freely available at: www.invid-project.eu/verify).
The functionality of several analysis components of this tool, such as the ones for video fragmentation and reverse keyframe search, advanced Twitter search, detailed inspection of images using a digital magnifying glass, and reverse search of a flipped image, was discussed with the help of representative examples. Through his presentation, Mr. Teyssou highlighted the usefulness of the developed technology for fake news video debunking, which has already gained some very positive feedback on social media platforms, from experts of the media verification community.
The given presentation can be seen below.
The entire talk of Mr. Teyssou can be seen in the following.
apostolid February 21, 2018 Events, Newsimage forensic analysis, invid verification plugin, invid verification tool, video forensic analysis, WIFS 2017 Read more >